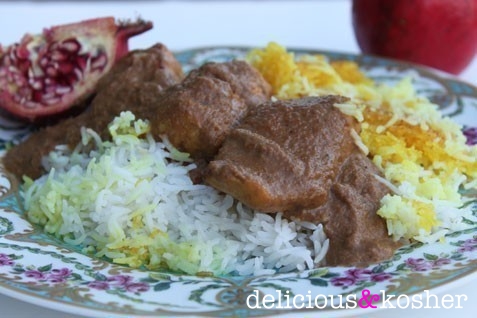 I decided to post a sweet, yet tangy and nutty Persian dish.
This is a healthier version of the classic Persian pomegranate chicken stew replacing the whole chicken on the bone with skin with skinless chicken and boneless breast cutlets/tenders. This recipe has been adapted from my nutritionist friend who is originally from Iran and lives in California.
Serve over basmati rice or brown rice.
2 cups of walnuts, toasted in the oven @350 degrees until fragrant, about 10 minutes, then ground in a food processor.
2 lbs. of hormone-free, preferably organic chicken tenders (medallion-size pieces of boneless, skinless chicken breasts), lightly seasoned with sea salt and   freshly ground pepper
2 medium onions, finely diced and divided into two small bowls
1/2 cup of pomegranate paste or concentrate (I use the Sadaf brand in a glass bottle, not pomegranate juice) or 2 cups 100 percent pomegranate juice. (Try to use the concentrate for a more authentic version)
¼ cup sugar, preferably raw sugar, plus more as needed, to taste
2 tablespoons of lemon juice
2 tablespoons of canola oil, plus more as needed, for sauteing the chicken]
1 pinch of saffron, ground, then dissolved in 2 tablespoons boiling hot
water or 1/4 teaspoon turmeric (no water)
1 teaspoon sea salt, plus more as needed, to taste
freshly ground black pepper, to taste
Heat a deep saute pan or Dutch oven over medium heat, adding the oil and onion. Cook until golden and slightly caramelized, about 5 minutes.
Add the ground, toasted walnuts and stir, adding 2-1/2-3 cups of water. Bring to a boil, lower the temperature and let simmer for 20-30 minutes.  Add the lemon juice, sea salt, pepper, pomegranate paste and a bit more water, only if the mixture is too thick.
Saute the chicken in a separate pot, adding a little oil as needed. Add the remaining diced onion and continue sauteing the chicken with the saffron water or turmeric for about 5 minutes. Do not overcook.
Add the sauteed chicken and onions to the pomegranate/walnut mixture and simmer over a low heat at least 15-20 minutes prior to serving the dish, adjusting the flavor to your taste (more sugar, salt, pepper, etc.)
This dish is full of Omegas 6 & 9.
*Meat, Gluten Free
Persian Pomegranate Walnut Chicken (Fesenjoon)*
This is a classic Israeli appetizer and spread that happens to be very good for you as well as tasty! You can serve hummus so many different ways with countless variations. This is the basic recipe. If you cannot make it with dried chickpeas, you can substitute 2, 15-ounce cans of chickpeas. Try to make it fresh as the taste is better and of course better for you. Once you have made it fresh you will think twice about buying ready-made hummus, which does not hold a candle to homemade. For a spicier hummus, add a bit of cayenne pepper when processing the mixture. Hummus stays fresh for a few days in the fridge.
Recipe type:
Poultry, Fish & Beef
Cuisine:
Kosher, Gluten Free
Ingredients
2 cups of walnuts, toasted in the oven @350 degrees until fragrant, about 10 minutes, then ground in a food processor.
2 lbs. of hormone-free, preferably organic chicken tenders (medallion-size pieces of boneless, skinless chicken breasts), lightly seasoned with sea salt and freshly ground pepper
2 medium onions, finely diced and divided into two small bowls
½ cup of pomegranate paste or concentrate (I use the Sadaf brand in a glass bottle, not pomegranate juice) or 2 cups 100 percent pomegranate juice. (Try to use the concentrate for a more authentic version)
¼ cup sugar, preferably raw sugar, plus more as needed, to taste
2 tablespoons of lemon juice
2 tablespoons of canola oil, plus more as needed, for sauteing the chicken
1 pinch of saffron, ground, then dissolved in 2 tablespoons boiling hot
water or ¼ teaspoon turmeric (no water)
1 teaspoon sea salt, plus more as needed, to taste
freshly ground black pepper, to taste
Instructions
Heat a deep saute pan or Dutch oven over medium heat, adding the oil and onion. Cook until golden and slightly caramelized, about 5 minutes.
Add the ground, toasted walnuts and stir, adding 2-1/2-3 cups of water. Bring to a boil, lower the temperature and let simmer for 20-30 minutes. Add the lemon juice, sea salt, pepper, pomegranate paste and a bit more water, only if the mixture is too thick.
Saute the chicken in a separate pot, adding a little oil as needed. Add the remaining diced onion and continue sauteing the chicken with the saffron water or turmeric for about 5 minutes. Do not overcook.
Add the sauteed chicken and onions to the pomegranate/walnut mixture and simmer over a low heat at least 15-20 minutes prior to serving the dish, adjusting the flavor to your taste (more sugar, salt, pepper, etc.)
This dish is full of Omegas 6 & 9.
*Meat, Gluten Free