Healthy Delicious Kosher ​Food ​You'll CRAVE ​Without ​Feeling ​Deprived…
Hi, I'm Karen,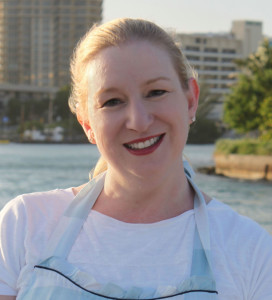 ​I am so blessed to be married to my husband Kami for 26 years, ​and the mother to five amazing children.​ I recently even became a Grandmother for the second time. My two oldest children are married: my daughter is a new mom; my son served in the Israel Defense Forces as a paratrooper and my daughter-in-law served as a shooting instructor in the IDF. My husband, our three youngest children and I, along with our English lab Shemesh, live in Boca Raton, Florida.
Growing up in a large Jewish family, mainly in upstate New York, I was surrounded by good cooking and lots of celebrating.  I was always so drawn to food.  From the first falafel I tasted from an Israeli cook, to the lessons from gourmet Italian home cooks and restaurant chefs, to days spent learning from my friend's mom about Hong Kong cuisine, to trips to Chinatown and living in Israel, to mastering the art of Persian cooking after marrying my Iranian husband, to lessons from gourmet Moroccan friends. I have catered events up to 350 people and my recipes were featured in "The Great Chefs of the Capital District" event. I have taught cooking classes for over 18 years.  I learn from every culture, excellent home cook and professional chef. I am excited to share that wisdom with you.
​After college I moved to Israel and joined the Israeli army, which was a very meaningful experience. At the end of my service I fell in love with my future husband.
​​When our two oldest children were little we​ committed to living an observant modern orthodox Jewish lifestyle. I now transform my favorite American and international non-kosher dishes into delicious kosher fare.
My health and income discovery…
When my first two children were just toddlers, I was tired all of the time, suffering from chronic fatigue syndrome. After 18 frustrating months of seeing numerous doctors in NYC, I still had no relief. Then I stumbled upon products that happened to be from a network marketing company which finally improved my health and energy levels. Overcoming this condition led me to a new passion for the healing powers of nutrition. I became hooked on helping others transform their health with these products, and I loved the idea that I could be a stay-at-home mompreneur earning a significant residual income and helping others to do the same.
Do you dream of food like me and still want to be healthy and fit?
Fast forward… my food and cooking obsession has grown throughout the years and my love of creating recipes. With my greatest strength also came my biggest struggles: overeating and eating the wrong foods; not sticking with a workout regimen; craving comfort food; indulging and hating diet food that is tasteless and screams deprivation.  I have learned how to prepare delicious food that is good for you and fits perfectly into a fit lifestyle that satisfies cravings.
Your life can be better starting now…
I have found a solution to so much that worries and stresses me and millions of others, a solution that has helped to transform my own family's life as well as thousands of others with vibrant health, weight loss, improved mood, better sleep, energy & performance, an anti-aging health breakthrough and financial and time FREEDOM. The solution that I found can rescue YOU too! It is literally a secret weapon that can turn your life around in all of the areas I shared with you. Isagenix has helped me earn a six figure income while helping others improve just about every area of their lives.    Click on the 30-day weight loss success tab above to find out more. 
We are in this together…
I determined that I could help so many others like myself by creating a support group. Because cooking and creating recipes is a spiritual experience for me, my calling and a gift from above, along with my passion for holistic health and nutrition, I know I am meant to be an inspiration  and to show you a roadmap to healthier living and to know that you are not alone. You can eat healthier versions of comfort food and nourish your nutritionally bankrupt body with quick and easy super nutrition that will leave you feeling revitalized and full of energy.
Eat More, Not Less! Yes, Really!
When you eat healthy food (especially if it tastes great, which l will teach you how simple and easy it is to prepare) and more of it on a regular basis, you will start to crave it instead of the garbage which makes all of us feel horrible. Your energy, stamina, mental clarity, mood and focus will soar. An additional benefit is feeling years younger! Just imagine how the quality of your entire life will improve!
I have created the ​delicious and kosher™ website  to create a whole community of lovers of food who crave good health, vitality and a fit body!  In addition, as an experienced busy mother of five, I will share with you great tips to reducing your stress and managing your busy household.
I welcome you into my kitchen.
We will offer videos,​ healthy meal plans that taste like comfort food, meal prep guides, cooking tips, shopping lists, recipe cards and much more.
Warmly,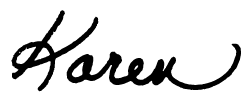 Karen Abir
P.S.  All recipes are Kosher, and mostly focused on whole foods and organic whenever possible.  You will find a great variety of gluten-free, Paleo, vegan, vegetarian, and clean eating options.
I am presently working on my upcoming book, delicious and kosher™.
I ​represent​ a life-changing health and nutrition company that has solutions for Weight Loss, Healthy Aging, Energy & Performance and Wealth Creation. Click here for more info.  To have me customize a strictly kosher system for you, please contact me.